Communication is the essence of any sales and marketing activity. To take your product or service in front of your target audience and convince them to purchase them requires communicating with them at every stage of their purchase journey and winning their confidence to lock the deal. Over the years, marketing and communication have undergone many changes, with customers and businesses being introduced to numerous channels of communication such as Emails, social media, etc., to facilitate effective marketing.
However, it is not possible to keep track of the needs of every single customer using traditional techniques. Simply having a customer list and their contact details isn't sufficient. The demand for personalization has increased exponentially, and businesses require sending the right messages to the right people at the right time. This is where CRM-driven messaging comes into the picture. GirikSMS App is a Salesforce SMS App built natively on the Salesforce platform. It offers multiple advanced features to help organizations take their customer communication to the next level.
Listed below are some of the significant features of this fantastic App:
Workflow Automation: By forming workflow configurations, it is possible to automate the sending of SMS/MMS. By sending text messages automatically, customer experience can be customized depending on their behaviors with workflows.
SMS Template: Templates can be leveraged to create message expected to be used by users. By using this feature, it is possible to create templates for all objects (standard or custom.)
Bulk or Single SMS Texting: Salesforce SMS App allows users the provision of sending individual, as well as bulk messages. With this feature, users will be able to send messages to selected contacts quickly. Around 200 SMS can be sent from the List view of Salesforce using this feature.
WhatsApp Integration with Salesforce: This feature allows users to send WhatsApp text alerts to customers from Salesforce. In case users aren't using WhatsApp, then SMS will be sent.
Schedule Messages: With this feature, it is possible to schedule the sending of messages to different geographical locations with different time zones. To send messages, users need to enter the desired date and time. At the desired date and time message gets disbursed automatically.
Set Reminder: The advance schedule feature can be used to set up appointment reminder messages from the workflow. The advance schedule feature can be used to set up appointment reminder messages from the workflow.
By leveraging the aforementioned features, the following benefits can be attained:
• Effective Management of Leads: Right from acquiring leads to closing deals, a CRM messaging App helps organizations manage their leads. Specific actions and responses can be added while sending and receiving responses to each lead from the contacts due concerning their promotional messages into the sales pipeline directly. This would help organizations streamline their business processes efficiently.
• Manage Multiple Leads: With the ever-increasing number of customers, it isn't possible to manage a single lead at a time as doing so would lead to lost opportunities. A CRM integrated messaging App helps manage multiple leads at a single time as CRM platforms have different tabs for different leads. Each tab can be managed individually besides handling other contacts.
• Automating Tedious Processes: If users wish to send the same message to hundreds of customers, it is possible with CRM-driven messaging. Such an App helps in automating this process through bulk and scheduled messaging. This helps save a lot of time, which they can invest in managing core business issues.
• Tracking Messaging History: A CRM-integrated messaging App can be used to keep track of messages sent and received of every contact. Regardless of the kind and outcome of the conversation, A CRM integrated SMS App maintains a record of all relevant information on a centralized platform. This can be used as a reference in case of a conflict.
• Improved Response Rate: Since messages are more interactive than emails, CRM-driven messaging can provide a better response rate. So, when users are familiar with the likes and preferences of their customers, customers tend to respond quickly.
• Increased Personalization: Sending generic messages to customers are no longer effective in today's competitive business landscape. Customers yearn to feel special, so sending them personalized messages that sync with their behavior and preferences is essential. A CRM integrated SMS App helps deliver personalized messages, which will result in better customer engagement.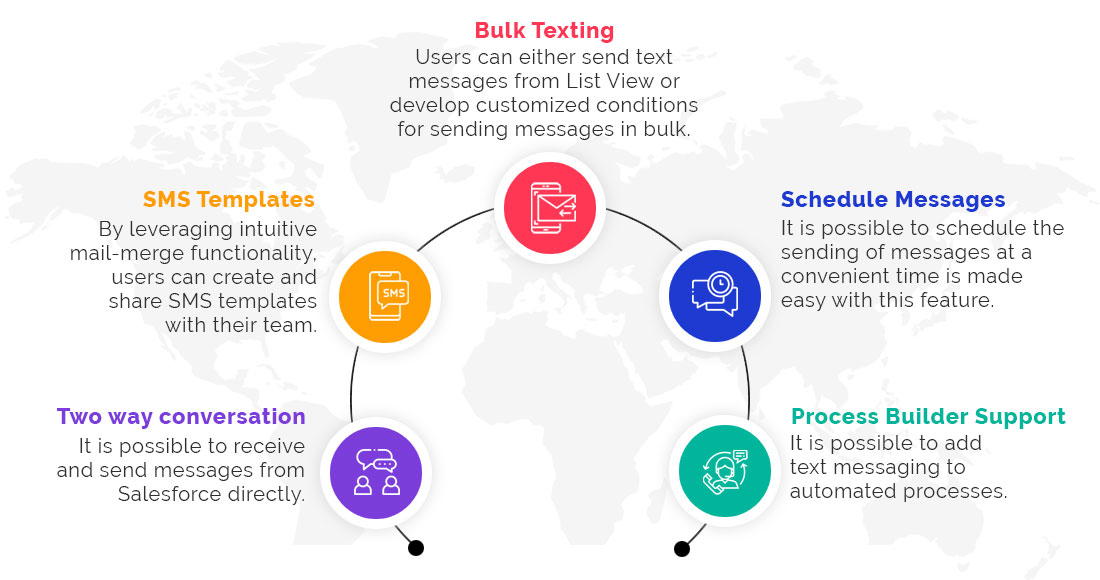 Final Words: These are some of the powerful features of this Salesforce Texting App. By leveraging these features, several benefits can be attained. So, if you wish to boost customer communication, while saving time through automated text messaging then you must consider implementing this app within your business ecosystem. If you are still on the fence, make sure you get in touch with a reputed service provider to know more about this App.